DID YOU KNOW? Debt for New York City has grown from $4,923 per person in 2000 to $10,113 in 2017, an increase of 105%. More than 700,000 jobs have been added in NYC during the past 8 years, an average of 87,500 jobs per year. The debt per capita of every US national is over $61,000. If the Japanese wanted to pay off their national debt, they would owe $90,345 each. Among OECD countries, Ireland, and Italy are next, with $62,687, and $58,693 respectively and Belgium, at $58,134. The OECD average of $50,245. (World Economic Forum)
DID YOU KNOW? Will there be a cash infusion over the next few weeks from withdrawn hedge funds? Today, most managers of hedge funds will find out how much of their stock/bond portfolios they need to liquidate ahead of time because those invested in hedge funds have to give notice by today if and how much they will withdraw. The stock market has been skittish over the past month, mostly due to rising interest rates, the mid-term elections, trade war concerns and reports on political wrongdoing that are about to come out. Many big investors stung by recent big losses that likely eroded confidence in hedge funds could possibly be asking for a lot of their money back. November 15th isn't a hard and fast deadline but traditionally, 45 days to the end of the year has been the time when investors have had to notify hedge funds of withdrawals. Around $100 billion has been withdrawn in each of the past few years, but the stock market was mostly climbing during those years. (NY POST)

DID YOU KNOW? In the past 10 years, employment in U.S. cities has grown 7% and the number of businesses in these places has grown11%, while employment has contracted in nonmetro areas and the number of businesses there has barely changed, according to Labor Department. Five cities—New York, Chicago, Dallas, Houston, San Francisco—accounted for a third of all Fortune 500 headquarters and half of Fortune 500 firms' profits in 2017. When startups began locating in cities in the 1990s, many predicted that because the internet allowed people to work from anywhere, tech workers would scatter across the country as firms sought cheap office space. Instead, places like Silicon Valley and Seattle proved that clusters of highly skilled workers fueled innovation at a faster pace. Supercharged places that were already doing well, drew in more educated workers who wanted to live in walkable neighborhoods with nice restaurants and hip entertainment. (WSJ)
Compass Catch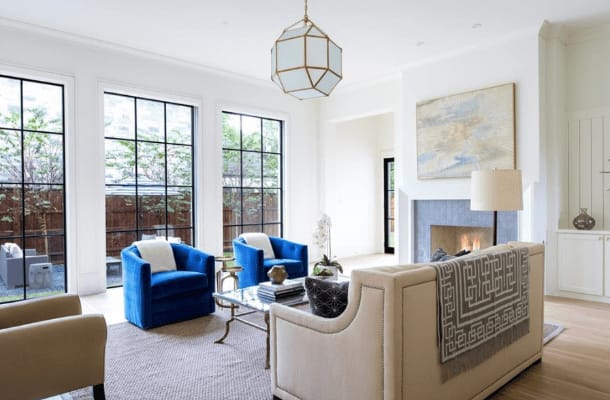 5 Bed | 5 Bath | 2 Half Bath | $2,395,000 | Jonathan Rosen

Sequel Home Builders brings a European inspired farmhouse to the heart of Preston Hollow. Dilbeck influences can be seen in the decorative latticed brickwork on the home's lime washed exterior, the southern French style roof, and brick paver walkway. European styling continues throughout the two story 6,685 sqft home with vaulted ceilings, exposed beams, Victorian grid paneling, and Marie Antoinette style parquet white oak flooring. Slab foundation windows infuse the 5 bedroom, 5.2 bathroom home with light, creating a peaceful ambiance during the day with elegant and whimsical fixtures from Visual Comfort setting the tone in the evenings. The depth of thought and detailing in this home is beyond compare.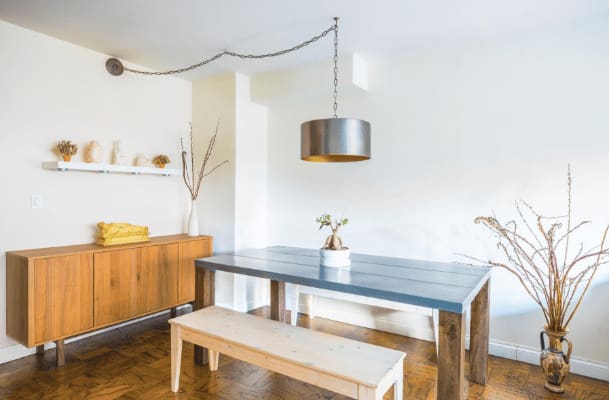 1 Bed | 1 Bath | $869,000 | Renee Lee

Open house this Sunday, 11/18 from 12 pm to 1 pm by appointment only! Welcome home to 403, a fully renovated one bedroom, one bathroom apartment facing south designed with style, luxury and smart home living. Stunning open kitchen features sleek white cabinets with glass shelves and paneled dishwasher, stainless steel appliances, a beautiful island, granite countertops, and mosaic backsplash in cool grey with blue undertone matching that of the floor tiles. Spa-like bathroom is equipped with high end finishes including walls of Italian stone tiles, Hansgrohe fixtures throughout, glass-enclosed rain shower with water temperature control, and the marble-countertop vanity, two sleek mirrored medicine cabinets, light fixtures, and hardware are all by Restoration Hardware. To top it off, there is also a customized floor-to-ceiling linen closet with swing mirrored doors for extra storage.


7 Bed | 6 Bath | 1 Half Bath | $11,500,000 | Steven Shane

The North Star Lodge is located just 2.5 miles east of downtown Aspen. This authentic Rocky Mountain home is sited on 7.6 acres. The North Star Preserve boarders the property offering walking trails, kayaking, water tubing, sand beaches, paragliding, and cross country ski trails. The North Star Lodge's great room features soaring ceilings, an oversized stone fireplace, beams selected from the 1980's fire from Yellowstone, dramatic trusses and unparalleled craftsmanship complimented by an open kitchen and greater than 4,000 square feet of deck. The seven generous en-suite bedrooms are finished with the same painstaking attention to detail, including two master suites each with their own hot tub, helping to create The North Star Lodge. Complete privacy located only 2 miles from the Gondola.


3 Bed | 3 Bath | $2,795,000 | Cece Webb

Located in one of the best neighborhoods within the Beverly Hills Post Office, this 3+2.5 charming traditional home has been completely redone with stunning designer touches and custom light fixtures and window treatments throughout. The property's layout is just as perfect for entertaining as it is for every day living with an open living room and dining area with beautiful white wood floors and surrounded by tons of windows flooding the space with natural light. The eat-in Chef's kitchen features Caesarstone counters, a large center island, custom cabinetry and top of the stainless steel appliances. Just adjacent to the kitchen is a custom bar area which offers a wine refrigerator, beer tap and leads into a step down family room/ den that can also be perfect for a home office. The upstairs Master is reminiscent of your favorite resort suite and boasts high ceilings, a cozy sitting nook and a spa-like bath with gorgeous tile and marble finishes.
Houston, Texas
This morning I thought I would share some insights to this remarkable city, mostly sourced from Wikipedia, so forgive me if its not 100% verified yet. Founded in 1836 by land speculators, Houston is the most populous city in Texas and the 4th most populous city in the USA, with an estimated population of over 2.3 million in 2017. It is the most populous city in the Southern USA and on the Gulf Coast. The Greater Houston metropolitan area, is the 5th most populous metropolitan statistical area in the USA - and the 2nd most populous in Texas after Dallas-Fort Worth - with a land area of almost 600 square miles.
The arrival of the 20th century saw a convergence of economic factors which fueled rapid growth in Houston, including a burgeoning port and railroad industry, the decline of Galveston as Texas' primary port following a devastating 1900 hurricane, the subsequent construction of the Houston Ship Channel, and the Texas oil boom. In the mid-20th century, Houston's economy diversified as it became home to the Texas Medical Center- the world's largest concentration of healthcare and research institutions - and NASA's Johnson Space Center, where the Mission Control Center is located.


Houston's economy has a broad industrial base in energy, manufacturing, aeronautics, and transportation.
Leading in healthcare sectors and building oilfield equipment, Houston has the second most Fortune 500 headquarters of any U.S. municipality within its city limits.
The Port of Houston ranks first in the United States in international waterborne tonnage handled and second in total cargo tonnage handled.
Houston is a global city, with strengths in culture, medicine, and research with a population from various ethnic and religious backgrounds and a large and growing international community.
Houston is the most diverse metropolitan area in Texas and has been described as the most racially and ethnically diverse major metropolis in the U.S.
Houston has many cultural institutions and exhibits, which attract more than 7 million visitors a year to the Museum District. Some of the world's finest art collections are located here.
Houston has an active visual and performing arts scene in the Theater District and offers year-round resident companies in all major performing arts.
Houston experiences hot, long, and humid summers, and mild winters, but is not located in Tornado Alley.
Locations in Houston are generally classified as either being inside or outside the Interstate 610 loop.
The "Inner Loop" encompasses a 97-square-mile (250 km2) area which includes Downtown, pre–World War II residential neighborhoods and streetcar suburbs, and newer high-density apartment and townhouse developments.
Outside the loop, the city's typology is more suburban, though many major business districts—such as Uptown, Westchase, and the Energy Corridor—lie well outside the urban core.
Although zoning has been limited regulations include mandatory lot size for single-family houses and requirements that parking be available to tenants and customers.
Some have blamed the city's low density, urban sprawl, and lack of pedestrian-friendliness on limited land use policy, this has also been credited with having significant affordable housing, sparing Houston the worst effects of the 2008 real estate crisis.
Houston has the 4th-tallest skyline in the USA after New York City, Chicago, and Miami.
A 7-mile system of tunnels and skywalks links downtown buildings containing shops and restaurants, enabling pedestrians to avoid summer heat and rain while walking between buildings.
Many of the world's greatest architects have designed buildings in the Houston area.
The Houston area is the top U.S. market for exports, surpassing New York City in 2013.
Houston is consistently ranked as one of the best places to work, job creation, paycheck worth, quality of life, reasonable cost of living.
In October 2018, the single-family home median price rose 3.6% to $234,653, and the average price increased 3.5% to $294,500. All housing segments experienced gains except for homes priced at $150,000 and below. The strongest segment was the luxury market (homes priced at $750,000 plus), which jumped 12% in October.
If you want to see a really fancy suburb, look no further than River Oaks, home to some of Houston's mega-mansions. (You've seen many of these amazing homes in Architectural Digest!)
There is MUCH more to know about Houston, one of the USA's great cities.

Have a terrific Thursday!

Regards,

Leonard
No warranty, express or implied, is made or should be assumed regarding the accuracy, adequacy, completeness, legality or reliability of any information, in part or whole, contained herein. All data and information provided herein is for informational purposes only and does not represent or constitute a legal analysis or financial advice. The opinions expressed herein are those of Leonard Steinberg and do not necessarily reflect the views of Compass. Furthermore, this information may contain copyrighted material the use of which has not always been specifically authorized by the copyright owner. Such material is made available to advance understanding of general real estate market conditions, which should constitute a "fair use" of any such copyrighted material as provided for in section 107 of the US Copyright Law.

90 Fifth Ave., 3rd Floor, New York, NY 10011